BLS CPR & AED Renewal in Philadelphia
$64.95
American Heart Association AHA BLS CPR and AED Recertification
CPR Certification Philadelphia provides CPR renewal classes in an interactive setting with hands-on training.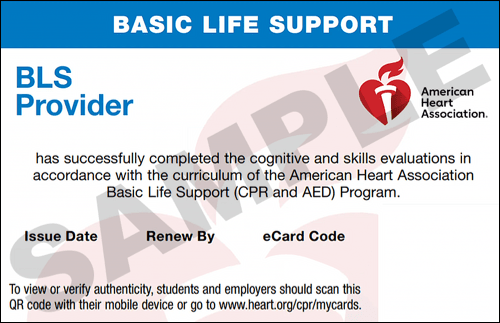 Philadelphia CPR Renewal Classes
CPR Certification Philadelphia provides CPR renewal classes in an interactive setting with hands-on training. After concluding your skill test in person, you will walk away with your CPR certification and BLS renewal the same day as your CPR renewal class.
We provide the finest certification and recertification programs available and are certified by the American Heart Association (AHA). Our team gives you the training you need to remain compliant with OSHA for your job or school requirements.
This class is for anyone who has previously taken an AHA certified BLS CPR course — even if you have a break in your CPR certification, you can still sign up for the recertification class!
Our CPR Renewal Training Includes
Same Day CPR + First Aid Cards
Hands on Chest Compression Training
Rescue Breath Training
AED Usage for Infant, Child, and Adults
Friendly and Relaxed Environment
Professional Instructors
CPR Certification Philadelphia Locations
Philadelphia's Best CPR Renewal Classes
Know CPR. Make a difference. Save a life.
Cardiopulmonary Resuscitation (CPR) is the lifesaving training you obtain either for work or as a civic duty. From chest compressions to rescue breathing, understanding how to complete these steps in a medical emergency is incredibly valuable! We provide renewal classes to ensure you are on top of your skills to adequately give life support.
Who Needs CPR Certification Renewal?
When you're out there making a difference in your world, it can be easy to overlook your CPR certification status. Remaining up-to-date on your certification every two years is required by OSHA to help save lives. If you have a close-to-expired certification or expired status, our courses are available to help you renew your CPR/AED/BLS requirements.
What to Expect in Your CPR Recertification
Completing our training, you can continue to confidently perform CPR during an emergency, whether attending to a baby, child, or adult.
We will examine  —
Identifying the seven CPR steps
Finding the pulse
Performing finger and palm chest compressions
Restoring regular breathing
Using the AED machine
After reobtaining your AHA certificate, you will meet OSHA requirements and be confident performing CPR.
All Employers and Organizations Accept CPR Certification Philadelphia, Including —
RNs, Nurses, and CNAs
Hospitals
EMT/Paramedics
In-home Health Aides
Personal Training Facilities and Gyms
Private and Public Schools
Hospitality Industry
Construction Sites
Preschools, Daycares, and Other Caretakers
Nursery caregivers
Nursing schools and Other College Programs
The Boy and Girl Scouts of America and other non-profits
Firefighting and Other Municipalities
Why Train With Us?
We love developing relationships with —  and helping  — the people and organizations in our city!
Gain certified training.
Experience personal training with our hands-on components, streamlined class time, and smaller class sizes.
Bring your group to us, or we can come to you!
Receive your AHA CPR certification card on the same day.
FAQS
How long does CPR certification last?
You must renew your CPR certification training every two years. This ensures that your knowledge and skills are current.
When can I take my CPR renewal class?
We offer CPR renewal class options weekly. Just choose which time frame best fits for you.
This course fulfills AHA BLS CPR and AED Healthcare Provider certification training requirements.
To be fully certified with the AHA and stay in compliance with your job, you must complete your skills check with a trained expert. Be mindful of other online options that do not include an in-person element. Our AHA CPR class is run by a qualified expert, making it by far the best choice out there!